By Brittany Nelson, USAS Public Relations & Communications Manager
COLO SPRGS, CO (Jan. 31, 2023) – USA Shooting rifle athletes brought home the hardware as Alison Weisz earned a gold and bronze medal at the Meyton Cup in Innsbruck, Austria, Jan. 24, and Sagen Maddalena earned gold at the H&N Cup in Munich, Germany, Jan. 27.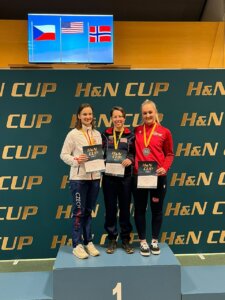 The back-to-back European competitions were hosted in locations popular for air guns and shooting sports. Both ladies earned their medals in Women's 10m Air Rifle events
Weisz and Maddalena are both soldiers in the U.S. Army Marksmanship Unit and saw great success in their 2022 seasons.
Weisz, of Belgrade, Montana, earned gold at the 2022 World Championships and a U.S. Olympic quota in Women's 10m Air Rifle.
Maddalena earned two medals at the 2022 World Championships and five medals at the 2022 Championship of the Americas. The Groveland, California, native also holds the 50m Smallbore and 10m Air Rifle 2022 National Champion titles.
Both rifle athletes were invited to the 2022 International Shooting Sports Federation (ISSF) President's Cup because of their top 12 world rankings. Each athlete earned a bronze medal in Women's 10m Air Rifle.
The next competition the rifle team will take on is the ISSF Cairo, Egypt, World Cup, Feb. 17-24. USA Shooting pistol athletes will also attend.
Follow @USAShooting on social media for competition updates and results.