By Reya Kempley, USAS Strategic Communications Coordinator
COLO SPRGS, CO (Aug 28, 2023) –From backgrounds as diverse as their personalities and experiences, our Team USA athletes now train together on the Path to Paris. Their aim is to earn one of the coveted spots on the Paralympic team, proudly representing their country among the world's best. Counting down to the opening ceremonies for the Paralympic Games on August 28, 2024, we are now one year out from the world's preeminent contest of Paralympic sport. 
American competitive shooting has a rich and proud history, boasting legends like Olympic Hall of Fame inductee Lones Wigger, women's trailblazer Margaret Murdoch, and icons Gary Anderson and Lanny Bassham. Medalists like Dan Jordan (2004) and McKenna Geer (2016) have brought the United States into the Paralympic limelight. Bolstered by a culture that values the safe, sporting use of firearms, today's Paralympic heroes and hopefuls follow in the footsteps of history's giants to make history of their own. Each is pursuing a dream many years in the making, with a unique story that led them to the Path to Paris.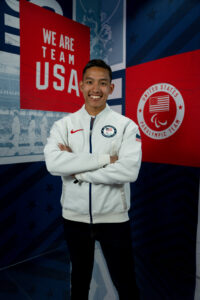 Paralympic hopeful Kevin Nguyen didn't have an early start in shooting sports in his hometown of Westminster, California, unlike many of his fellow athletes. Instead, his competitive shooting career began only after he joined the Army and served in Afghanistan. Three months into his tour in 2012, he was struck by an IED while on dismounted foot patrol. Back in the states recovering at San Diego Naval Medical Hospital, his competitive spirit had him walking three months after selective amputation. He fought to stay in the Army, passing rigorous physical fitness tests, weapons qualifications, and field training exercises. Nguyen was recommended to the USAMU in 2014 where he launched his competitive shooting career. He joined the World Class Athlete Program (WCAP) in 2017 and has since traveled the world representing the USA, winning several medals at international competitions, and earning a place on the 2020 Tokyo Paralympic Team.
"I would say the most unique thing I do is any time I go into a match I shut my brain off from the entire world to focus on my task/match/mission at hand," says Nguyen. "Something I picked up from time spent deployed overseas."
Friendships made while overseas remain cherished memories for Nguyen. While in the United Arab Emirates, a visa issue led to a new friend, with whom Nguyen toured sand dunes, the royal summer estate, the Burj Khalifa (tallest building in the world), and the Dubai World Market. Nguyen is now channeling his drive as he follows the Path to Paris toward the 2024 Paralympic team.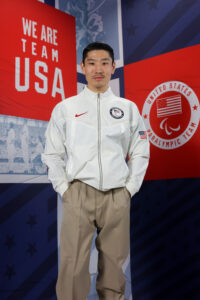 Playing General Patton with a BB gun revolver in a shopping cart "tank" was Paralympic hopeful Yanxiao Gong's childhood start with firearms. Later, he began shooting at the highly successful Bridge Junior Club in Los Angeles, California under Coach In Kim's tutelage. After his injury, shooting took on a new meaning in his life—it became a way to take his mind off rehabilitation, therapies, and school. Gong's shooting career has blossomed since.
In 2019 Gong arrived on the international scene in style at the World Shooting Para Sport Championships in Sydney, Australia. He fired an impressive score in the P3-Mixed 25m Sport Pistol event, qualified for the final, and earned the United States their first pistol quota for the 2020 Games. Every athlete has a unique pre-match ritual, but Gong's was memorable at this event. "Before that final," Gong recalls, "I did the 'you talkin' to me?' to the mirror in the bathroom with a Walther [pistol], then did pretty okay."
It was at this event that Gong began to see the Paralympic Games as an attainable goal. Toward that end, he moved to the United States Olympic and Paralympic Training Center to train full-time. Gong saw his efforts pay off when he made the 2020 Tokyo Paralympic team.
Pep talks to himself in the mirror are only the tip of the iceberg when it comes to Gong's competitive individuality. Each grip of his three competition pistols is engraved with the title of a song that evokes personal emotions related to the event. "Sway" by Dean Martin appears on his sport pistol grip, for the easygoing rhythm, vigor, slyness and warmth. Judy Garland's "Zing" adorns his free pistol, which Gong feels has lazy warmth and lively suddenness. Gong chose "Fly Me to the Moon" by Frank Sinatra for his air pistol, which he sees as overused and cheesy, but it can still give him goosebumps.
It might be that the advice he'd give to his younger self originates from those early imaginative days with his BB gun: "Shoot first, shoot fast."
Today, Gong is known for his incredible dedication and work ethic on the range, including copious dryfiring. Gong sees the Path the Paris clearly before him and works toward his second Paralympic Team berth.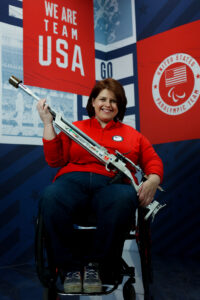 It was purely by chance that Paralympic hopeful Jazmin Almlie-Ryan found her start in the sport. While attending an adaptive sports event in her hometown of Houston, Texas for a wheelchair basketball tournament, her last game was canceled. To fill the afternoon, she tried her hand at an air rifle competition and won. As a result, she found herself invited to the U.S. Olympic and Paralympic Training Center for a training camp in 2011. Only two years later, she was named to the National Team, and has traveled the world since competing for Team USA.
Some Paralympic athletes require assistance while shooting in the form of loaders. While in Bangkok in 2016, Almlie-Ryan recalls asking a 16-year-old Thai volunteer to help her: "He was so eager and excited to help. We made a great team. I absolutely loved his enthusiasm and was so grateful for his assistance. I made the finals in both my events that trip, and I think he was actually more nervous than I was!"
Almlie-Ryan still enjoys playing adaptive sports such as wheelchair rugby and is known to push over 10 miles a day around her neighborhood. It seems that her 10 years of shooting competition and varied life experience play a part in the advice she'd tell her younger self.
"You will go through your highs and lows, both physically and while on the line, as does anybody in life, but take your focus off the score as a measurement of success, and just keep squeezing the trigger," she says. "Keep doing that regardless of the situation and you will certainly reach your highest potential. Relax and just let outcomes take care of themselves."
Almlie-Ryan earned quotas for each of the 2016, 2020, and 2024 Games and qualified for the 2016 and 2020 Paralympic Teams. If she fulfills her goal on the Path to Paris, she will become a three-time Paralympian.
These and numerous other hopefuls train with determination as they dream of representing their country on the world stage next year. While only a select few will be named to the team, every athlete's sacrifice and drive for excellence in the shooting sports make us proud.
Support your Olympic and Paralympic hopefuls on the Path to Paris and beyond by donating to USA Shooting at https://usashooting.org/get-involved/donate/ or by becoming a member at https://members.usashooting.org/memberregistration.