By Reya Kempley, USAS Strategic Communications Coordinator
COLO SPRGS, CO (July 26, 2023) – It's said that all roads lead to Rome, but for Team USA, the destination is Paris, the host city of the 2024 Olympic and Paralympic Games. Athletes all over the country are working tirelessly day in and day out to hone their strength and skills with their sights on one goal: the opportunity to represent their country on an Olympic team. With opening ceremonies taking place July 26, 2024, we are now one year out from the world's preeminent contest of sport.
American competitive shooting has a rich and proud history, boasting legends like Olympic Hall of Fame inductee Lones Wigger, women's trailblazer Margaret Murdoch, and icons Gary Anderson and Lanny Bassham. The USA claims the most Olympic medals of any country in shooting at 116, almost twice the count of the second-place country, China. Bolstered by a culture that values the safe, sporting use of firearms, today's Olympic heroes and hopefuls follow in the footsteps of history's giants to make history of their own. Each is pursuing a dream many years in the making, with a unique story that led them to the Path to Paris.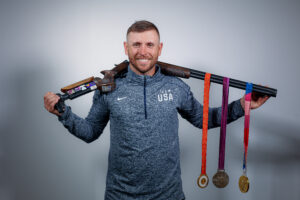 Dubbed "The King of Skeet," three-time gold medalist and Paris Olympic hopeful Vincent Hancock found his competitive drive-in baseball as a child, but by age 11, thanks to shooting with his father, skeet shooting had captured his full attention. By age 14, he had won his first Junior National Championship, and at 16 he had captured a World Championship title. In 2006, at age 17, he joined the United States Army Marksmanship Unit (USAMU) to further his training. Only two years later, he stepped atop the highest podium in the world to be awarded the gold medal at the 2008 Beijing Olympics, the youngest winner ever in that event. His Olympic path continued in 2012 as he won another gold in London, the first shotgun athlete to win consecutive Olympic gold medals. Hancock again dominated at the 2020 Tokyo Games to win an unprecedented third gold medal in skeet.
"I'm not a superstitious person, so I'm not much on good luck charms or rituals," says Hancock. "What I do believe in is consistency. With that in mind, I do like to compete in the same clothing and shoes that I practice in, so I have multiples of everything!"
Now on the Path to Paris, looking to qualify for the 2024 Olympics, Hancock is also intent on giving back to the sport by coaching and mentoring other athletes. "I would say to my younger self to always remember to have fun," said Hancock. "Remember why you started shooting."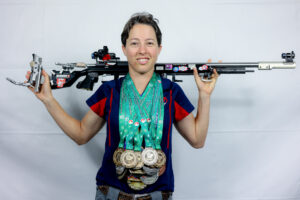 Rifle Olympic hopeful Sagen Maddalena also had important early influences leading her to shooting sports: her father and grandfather. Starting out in a 4-H shooting sports program, she later joined the award-winning California Grizzlies junior high-power rifle team, where she was motivated to beat the boys. Maddalena went on to shoot for the University of Alaska Fairbanks rifle team and earned eight All-American titles. Like Hancock, Maddalena also joined the USAMU, going on to earn multiple national titles, set national records, and earn a spot on the 2020 Tokyo Olympic team, finishing 5th in Women's 50m Rifle 3-Positions. Later that year, she won the prestigious invitation-only International Shooting Sports Federation President's Cup in the same event, then secured the silver medal and a USA quota spot for the Paris Olympic Games at the 2022 World Championships in a nail-biter final. She hopes to be the one filling that quota on her Path to Paris.
Among her many memories of competing overseas, tobogganing in Austria remains a favorite. She targets bass at the end of a fishing rod while off the range. "Be a sponge," she would tell her younger self. "Listen and watch your mentors and coaches. Watch and learn from your competitors."
A 4-H club and a father's influence also gave pistol Olympic hopeful Katelyn Abeln her start in shooting sports, though it wasn't until she shot air pistol at a makeshift target in a CrossFit gym that she fell in love with the sport. She competed at her first National Junior Olympic Championships at the age of 12 and hasn't looked back. Rising in the junior ranks, Abeln joined the Ohio State University pistol team and has since become an accomplished open competitor, winning a gold medal at the 2022 Championship of the Americas in Women's 25m Sport Pistol and securing a quota spot for the 2024 Paris Games for USA.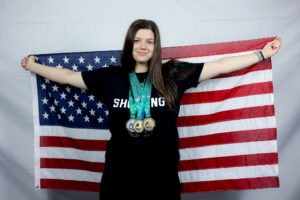 While shooting is serious business for Abeln, she emphasizes the importance of fun, from upbeat music prior to a competition to making memories with other competitors. At her first international competition in the Czech Republic, she recalls, "We played cards in the hallway of the hotel, explored the city, and ate new food. It doesn't seem like much when you are in the moment, but looking back, [the memories] seem more special than ever." Crowned this year's National Champion in 25m Sport Pistol, Abeln has the Path to Paris clearly in her sights.
These and numerous other hopefuls train with determination as they dream of representing the USA on the world stage next year, building upon an impressive history of American competitive shooting athletes. While only a select few will be named to the team, every athlete's sacrifice and drive for excellence in the shooting sports makes us proud.
Opening Ceremonies for the Paris 2024 Olympic Games will take place July 26, 2024. Watch for Paralympic athlete features as we approach one year out from the Paralympic Games Opening Ceremonies, to be held August 28, 2024.
Support your Olympic and Paralympic hopefuls on the Path to Paris and beyond by donating to USA Shooting at https://usashooting.org/get-involved/donate/ or by becoming a member at https://members.usashooting.org/memberregistration.