COLO SPRGS, CO (Oct. 24, 2022) – USA Shooting National Rifle Team athlete Sagen Maddalena secured a Paris 2024 Olympic quota for Team USA and brought home two medals at the 2022 International Shooting Sport Federation World Championship.
Maddalena, a soldier in the U.S. Army Marksmanship Unit, earned the nation a quota in 50m 3 Position Women's Rifle after she placed fourth overall in the event Oct. 21 in Cairo, Egypt.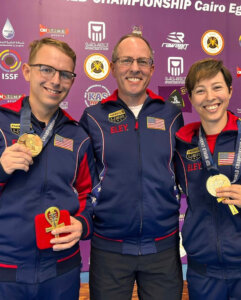 "I am happy to have grabbed America the first 50-meter quota of the quad," said Maddalena. "Hard work is paying off."
The University of Alaska Fairbanks alumni was also crowned World Champion alongside fellow USAMU soldier, Ivan Roe, in the 50m Rifle Prone Mixed Team event Oct. 19. The duo beat a Ukrainian team in the Gold Medal Match.
"Ivan and I put in the work as a team leading up to this competition," said Maddalena. "We had complete faith in each other and had a good time while doing it."
Maddalena, of Groveland California, additionally won a silver medal with fellow 2020 Olympians, Alison Weisz, and Mary Tucker, in the 10m Air Rifle Women's Team event Oct. 16. Maddalena also competed in the Women's 50m Rifle Prone event where she placed sixth overall and in the 50m Rifle Mixed Team event with Ivan Roe where they placed 11th.
Maddalena has been on a winning streak in 2022. In July, she won the National Champion title for both Women's 10m Air Rifle and Women's 50m Smallbore. At the 2022 Rio De Janeiro World Cup, she earned a silver medal in Women's Team 50m 3 Position Rifle and a bronze medal at the in Women's 50m 3 Position Rifle.
Maddalena also took home hardware in 2021. She earned Gold at the Wroclaw World Cup for both Women's 50m 3 Position Rifle and Mixed Team 50m 3 Position Rifle.
The next competition for Maddalena and the rest of the qualified USA Shooting athletes is the Championships of the Americas in Lima, Peru, Nov. 4-13.
Follow @USAShooting to stay up to date on all competition results and news.